February Wine Specials
*while supplies last
Dry Red Wines
Any 3 for $45
Dry White Wines
Any 3 for $40
Sweet Wines
3 for $30
*Apple, Nectarine, Semi-Sweet Nectarine, Peach, Semi-Sweet Peach, Summit White, Mountain Dog Red
Now Available!
Looking for a gift for your next holiday event!
Try our Wine Gift Boxes
1 bottle, 2 bottle, or 3 bottle
$2 per box + cost of respective wine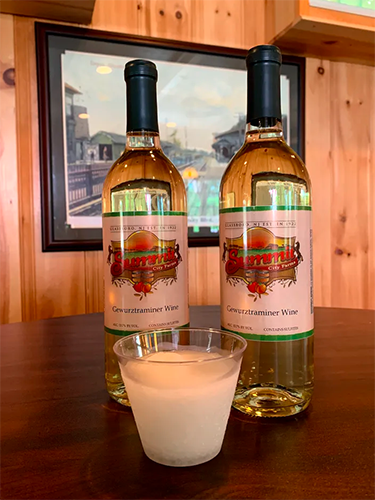 Introducing the Summit City
Wine Refreshers!
Need a break from the heat!
Visit us to try our new Frozen Wine Refresher!
Our featured Summer flavors are Strawberry made with our delicious Strawberry wine and Pina Colada made with our Gewurztraminer Wine!
$12 per glass
*While supplies last!
Summit City Winery
Signature Sangria!
Treat yourself to our delicious, Sangria!
Enjoy the taste of our Summit Red wine combined with sweet Blueberry wine!
Sangria by the glass ($7)
New Sangria Growler ($25)
American Cabernet Franc
$17
American Cabernet Sauvignon
$17
Boulevard Dry Red (Pinot Noir)
$17
Italian Dry (Chianti)
$17
American oaked chardonnay
$16
BLUEBERRY (DUKE VARIETY)
$14
PEACH (JERSEY QUEEN VARIETY)
$14
New
MOUNTAIN DOG RED (TABLE RED WINE)
$14
Tradition. Quality. Excellence.
Summit City Farms is a family-owned vertically integrated agribusiness that has been servicing the New Jersey area since 1922. Our wholesale working farm primarily comprises of peach, nectarine, and apple orchards along with a variety of other crops. We are proud to supply wholesale fruits and offer over 30 varieties of wines produced on our over 500 acres of farmland located in Glassboro, New Jersey.